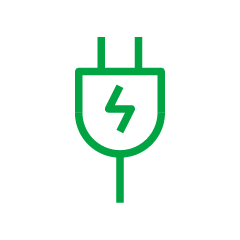 145 MW
Installed Capacity
450 GWhr
~ Output per year
80,000
Number of homes powered
Flyers Creek Wind Farm is a 145-Megawatt project owned by Iberdrola Australia. The wind farm site is located approximately 20 kilometres south of Orange in the Blayney and Cabonne Local Government Areas in the Central West region of New South Wales.
Project Approval was granted on 14 March 2014 and there have been five subsequent planning modifications approved since this date. Project Approval documents can be found under the Project documents link below, as well as construction management plan documents.
Flyers Creek Wind Farm comprises 38 wind turbines, access tracks, local road infrastructure upgrades, electrical connections between the turbines, a 33kv powerline, an on-site substation, and a 132 kv power line and switching station connecting the project to Essential Energy's existing Orange North to Cadia power line. The Development Layout map can be found under Project documents below.
Once operational, the project will generate approximately 450 gigawatt hours of electricity per year. This is equivalent to powering more than 80,000 Australian households and offsetting over330,000 tonnes of carbon emissions per year. During construction the project will create around 230 jobs, and an estimated 6-8 permanent regional jobs throughout its operational life.
Construction of the Flyers Creek Wind Farm commenced in April 2022 and is expected to be operational by early 2024.
COMMUNITY CONSULTATION COMMITTEE
A Community Consultation Committee for the Flyers Creek Wind Farm was established in 2012. The Committee is made up of local representatives and meets quarterly to provide local advice to Iberdrola Australia. Meeting minutes can be found under Project documents below.
COMMUNITY BENEFIT FUND
Iberdrola Australia has established a community benefit fund which is administered by Blayney Shire Council. We will make six-monthly contributions to the fund for the next 25 years.
Out of hours work
Working hours for the construction of the Flyers Creek Wind Farm are generally restricted to the standard construction hours of 7am to 6pm Monday to Friday and 8am to 1pm Saturday, with no work on Sundays and public holidays. Since November 2022 there have been some 'out of hours' construction activities carried out to take advantage of favourable weather and assist the timely completion of the project.
The out of hours work does not include any activities that result in impulsive or tonal noise emissions (rock breaking, rock hammering, pile driving), blasting activities, or highly intrusive noise generating activities.
The out of hours work may include turbine installation work if weather conditions are favourable. Limited night roadworks may be carried out on Halls Road.
Flyers Creek Wind Farm is located on traditional lands in Wiradjuri Country. Iberdrola Australia acknowledges the Wiradjuri people and pays respect to Elders past, present and emerging. We respect and celebrate the continuation of cultural, spiritual and educational traditions and practices of the Wiradjuri people who also work and live on this land.
Flyers Creek Image Gallery
You must obtain Iberdrola Australia's prior written approval before you publish, reproduce or distribute the images in this gallery. If you'd like to do so, please contact media@iberdrola.com.au